Free SEO Keywords Research Tool
Have you ever wondered what's the best way to optimize your content for SEO? The answer is simple - Keywords Research. A powerful SEO tool that helps you to find long tail keywords with low SEO difficulty. It provides you with thousands of keyword ideas, helping you to easily rank in search results.
Keyword Research is not rocket science. It's all about targeting keywords with high search volume and low SEO difficulty. The secret lies in using a competent keywords research tool that offers exact search volumes and search trends, allowing you to create content based on historical data and long-term trends.
Register and Get Free SEO Tools
Register now
and receive 25 free monthly credits for our SEO Keywords Research and other SEO tools.
Access them through our user-friendly web interface or as an API service.
AI based keywords research tool
You might feel lost when you don't know where to start. Here's where the AI based keyword research tool comes in handy. Simply enter your competitor's domain, product or service name and the AI keyword finder tool will show you the best keywords to start
Are you targeting a specific location? The AI keyword research tool is perfect for local SEO, providing location-specific long tail keywords for your website. With a good mix of simple and advanced data, this tool can cater to both newbies and experienced users.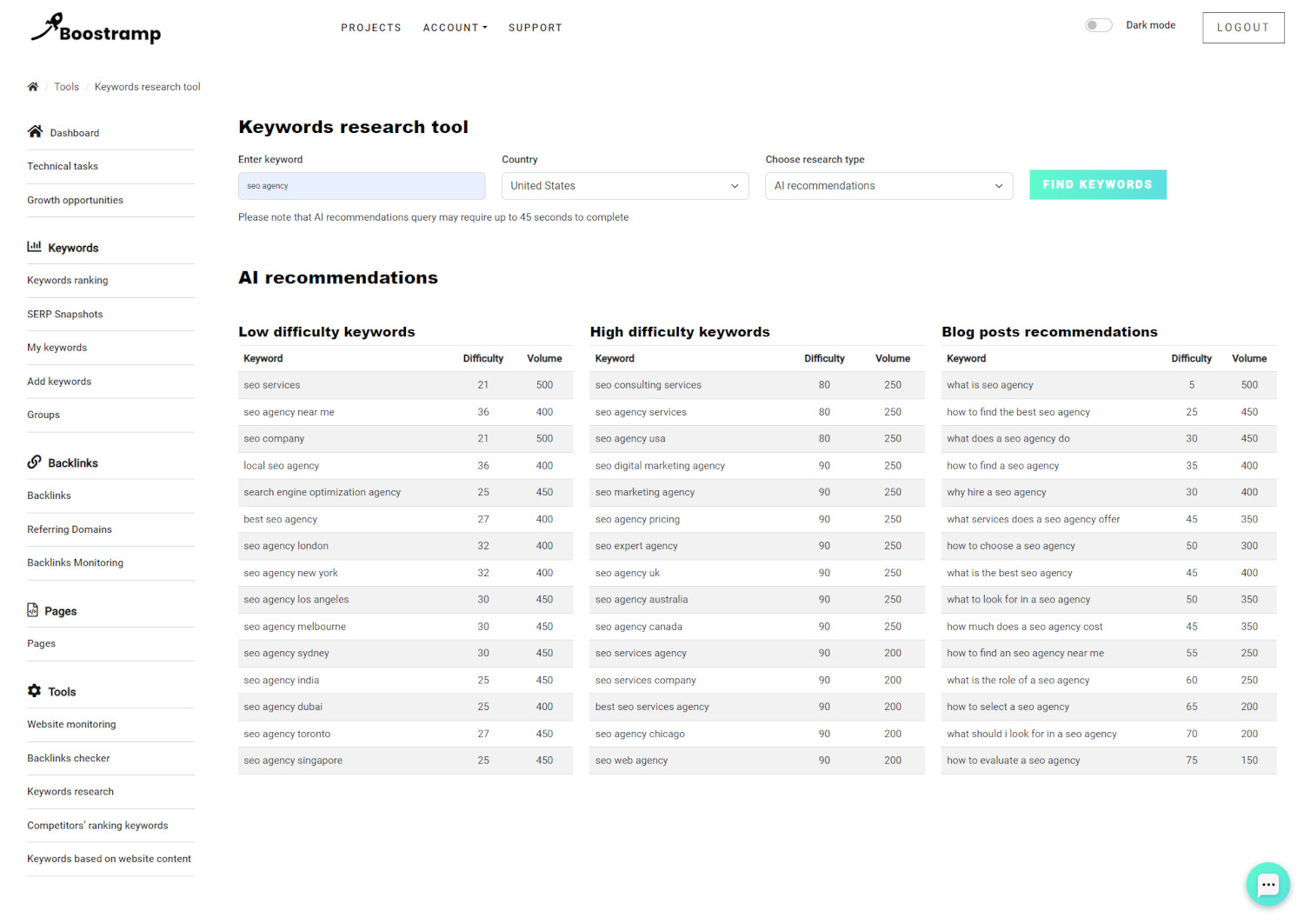 Classic keywords research tool
What is the secret to ranking higher on search engines? The answer is effective Keywords Research. This process involves identifying popular words and phrases people enter into search engines. Boostramp Keywords Research Tool, a solution inspired by leading industry practices, aids you in this endeavor.
Classic Keyword Research tool helps you discover thousands of new long-tail keywords related to any topic. It's also user-friendly, designed to be intuitive and easy to understand, making keyword research a breeze.