Backlinks monitoring


Why You Need Backlink Monitoring?
Backlink monitoring is a crucial aspect of SEO, especially for understanding the performance of your site and its standing against competitors. When it comes to backlinks, quality is more important than quantity. High-quality backlinks can significantly boost your domain authority and website's reputation, while poor or spammy backlinks can harm your SEO efforts.
It is important to ensure that all backlinks to your website are valid and up-to-date, and that they are indexed by Google. This allows your website to perform better and rank higher in search engine results. Boostramp monitoring tool helps you keep track of your own backlinks as well as the backlinks of your competitors, monitoring any changes and ensuring that all of your links are indexed by Google and working properly.
Register and Get Free SEO Tools
Register now
and receive 25 free monthly credits for our Backlinks Monitoring and other SEO tools.
Access them through our user-friendly web interface or as an API service.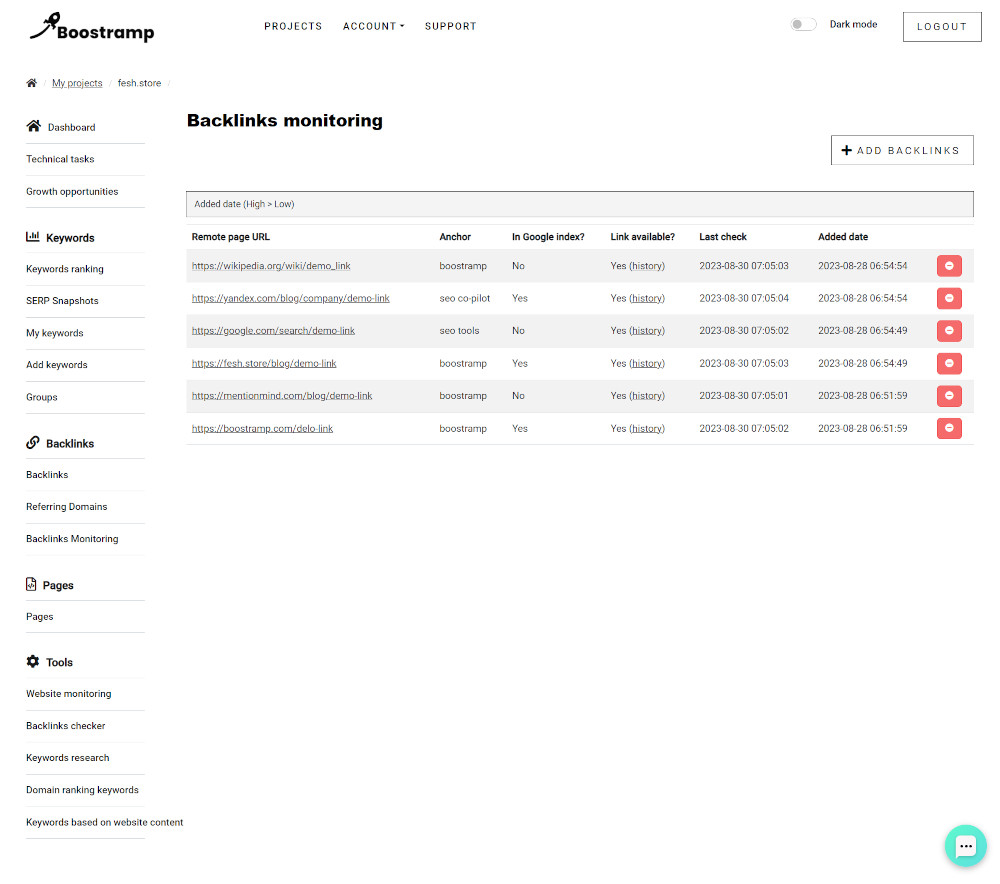 What Backlink Monitoring Tools Can Do For You
Backlink monitoring tools offer a wealth of data that can guide your SEO strategies. They provide information about all the links pointing to your site and give insights into your competitors' backlinks. These tools allow you to track the status of your backlinks, detect any lost or broken links, and keep track of your competitors' backlink strategies.
Keeping Track of Your Backlinks
Monitoring your backlinks is not a one-time task; it requires consistent effort. Regular monitoring allows you to ensure your links are not down or marked as nofollow, and to react quickly to lost backlinks. Furthermore, backlink monitoring allows you to keep an eye on your competitors' backlink strategies, providing valuable insights for your own strategies.
Features of Effective Backlink Monitoring Tools
Comprehensive dashboard: Boostramp monitoring tool provides an easy-to-understand dashboard that displays essential data like new and lost backlinks
Alerts: Email alerts that notify you when someone links to your site or when a backlink is lost or broken can help you stay on top of your backlink profile
Keyword tracking: Boostramp also offer keyword rank tracking features, enabling you to see which keywords you or your competitors rank for