Free Backlinks Checker tool


What is the best way to analyze your website's backlink profile and tap into the SEO strategies of your competitors?
The answer is using a Backlinks Checker tool! Free Boostramp backlinks checker tool is your first go-to resource for inspecting the backlink profile of any website. It provides you with a glimpse into the wealth of data and insights that a premium tool offers, such as the number of referring domains, the number of backlinks, and various domain rating metrics.
Register and Get Free SEO Tools
Register now
and receive 25 free monthly credits for our Backlinks Checker and other SEO tools.
Access them through our user-friendly web interface or as an API service.
Learn from your competitors' SEO strategies
By analyzing your competitors' backlink profiles, you can gain valuable insights into what is working for them and adjust your own strategy accordingly. This API service allows you to monitor your competitors' backlinks and compare them to your own, so you can identify any gaps or opportunities for improvement.
Boostramp Backlinks API allows you to get valuable insights into any website's backlinks, including the quality of the links, their sources, and their impact on your overall SEO strategy.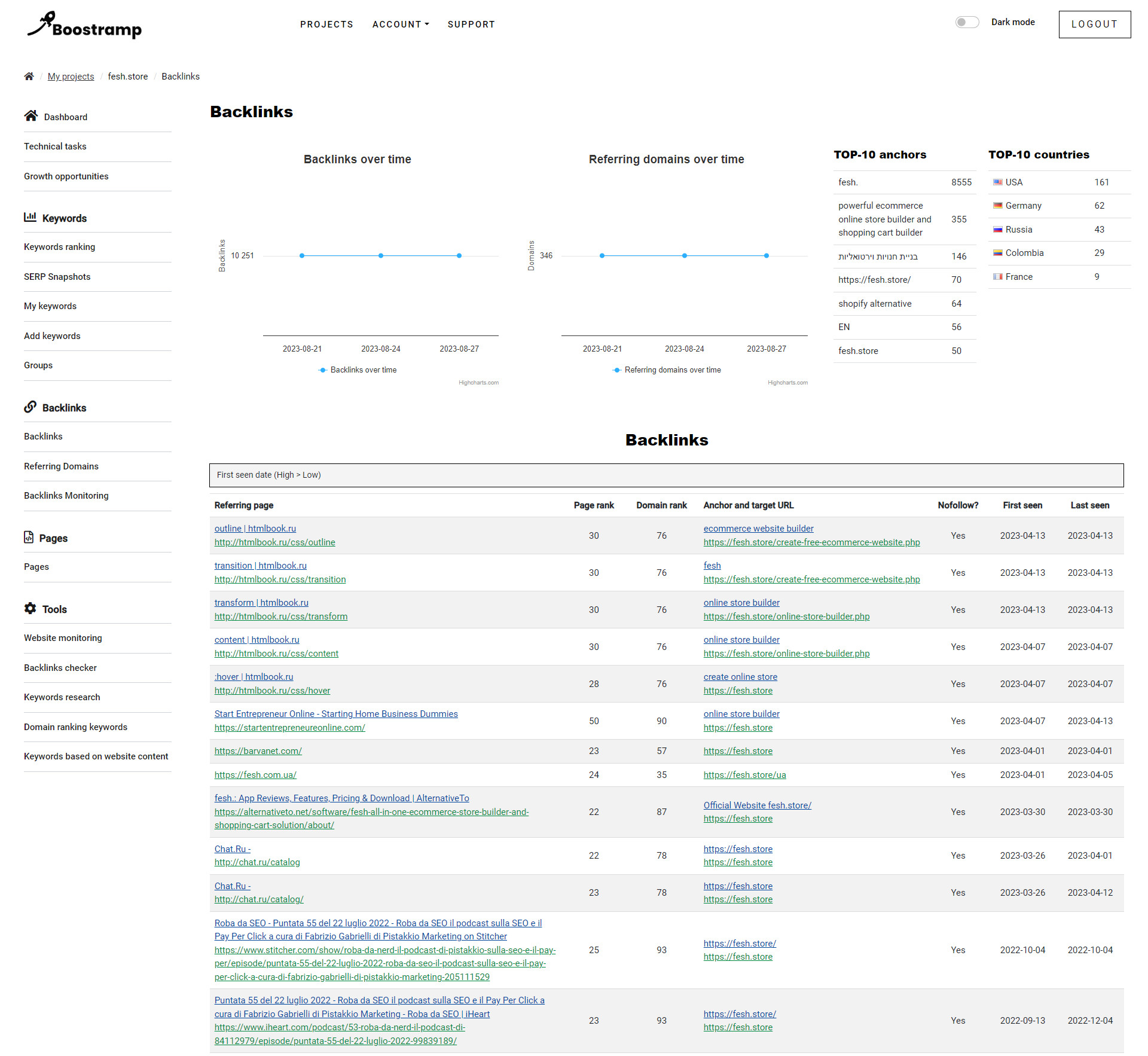 Backlinks Checker
Using a free Backlinks Checker tool offers numerous benefits. It allows you to see the number of referring domains and backlinks, estimate organic traffic to each linking page and referring domain, and find new link-building opportunities. By understanding the backlink popularity of your targets, you can fine-tune your SEO strategies and gain a competitive edge in your industry.
Competitor Analysis
Boostramp Backlinks Checker serves as a strategic weapon for competitive analysis. Imagine being able to identify new link building opportunities in seconds just by entering your competitor's URL. The tool shows you everyone who is linking to your competition and isn't linking to you, opening up a wealth of opportunities to boost your rankings.
Advanced Filtering for In-Depth Analysis
Advanced link filtering is another feature that sets a top-notch backlinks checker tool apart. These advanced filters make it easy to identify the best link opportunities for you. You can filter links by many SEO parameters